TIME TO PUT THE SCOTSMAN OUT OF ITS MISERY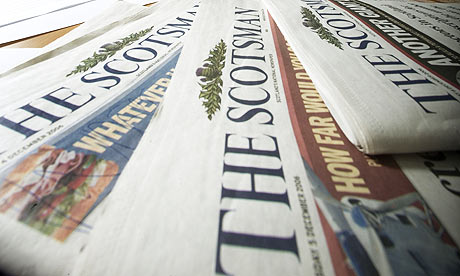 JOHN MCGURK
Look very closely at the latest official sales figures for national newspapers in Scotland and you will uncover facts which are even more depressing than the headline figures which are reported.
Those involved in the industry may well object to this statement because of the millions of digital readers who access their newspapers online and because we all know that print is in serious decline.
Then there's the star of the show, the Sunday Herald, which is up 34.7 per cent year-on-year thanks to its support for nationalism; an achievement which should be congratulated although it still sells little more than 32,000 copies a week.
But dig deeper into the circulations and you will see that the most shocking figures concern The Scotsman which now manages an average circulation of just 26,783 copies a day…except that's not entirely true.
This is because the headline number of its sales includes 2,462 free copies still sent to airlines, trains and hotels while another 6,934 are delivered and sold below the full cover price of £1.40 or £1.60 on Saturdays.
What this means is that the number of papers bought at full price every day — by readers who really want The Scotsman — is an average of 16,887.
This is a figure which should astonish anyone who is interested in the role of intelligent, home-grown news, debate and commentary as a major contribution to this nation's democracy.
It also means that The Scotsman now dispatches 9,396 papers every day which are either given away or significantly discounted, a figure which is more than one third of its stated circulation.
Look at this comparison: the latest sales figures for The Times show that it sells a daily average of 18,422 in Scotland with 13,472 sold at its full cover price.
So The Times in Scotland is only 3,415 copies behind The Scotsman when you compare their full cover price sales.
One other perspective: The Herald in Glasgow has an average daily sale of 37,044 with no free copies and only 461 sold below full rate.
Even a decade ago, it was unthinkable that a jigsaw paper from London with only essential Scottish material produced by a relatively small editorial staff in Glasgow could be only a few thousand copies behind its Scottish competition and will probably outsell it in a year or so.
Free copies of newspapers were once regarded as a necessary evil because every publisher did it. The industry had convinced itself that it was a cheap way of maintaining respectable sales figures while getting their papers sampled by potential new readers.
But rising costs, particularly newsprint, began to make this practice unaffordable. Sensible publishers came to the conclusion that it was a mug's game; so when one gave up the addiction, most of the others quickly followed.
Publishers who maintain these free copies do so because the alternative would see circulations tumble overnight making advertising even more difficult to attract at the right price.
The readership of the free version of The Scotsman online, scotsman.com tells a very different story.
There are 182,499 daily browsers, 950,578 weekly and 3,409,126 monthly.
During the independence referendum campaign, the number of monthly browsers reached 4 million.
Johnston Press, the owner of The Scotsman, continues to struggle with £180 million of debt despite a re-financing deal last year, and is desperately trying to reshape its newspapers into digital businesses.
But they prefer what seems like never-ending rounds of redundancies and cost-cutting instead of real investment in journalism which, you would think, must be at the heart of what they are trying to achieve.
Given all of the above, the time is surely approaching when The Scotsman, as a printed newspaper, is no longer viable or sustainable.
Producing it online only would eliminate newsprint, production and distribution costs in one fell swoop and, hopefully, allow some of these savings to be ploughed into making scotsman.com the best Scottish news and current affairs site available.
The Scotsman is still a potent brand around the world; making it distinctive and original by concentrating on what it can do best may even persuade digital readers to pay for the pleasure.
There are downsides; the price advertisers are willing to pay for digital stuff is nowhere near what they used to pay for print while Scotland and Sunday and the Edinburgh Evening News would have to fall into line.
What is the alternative?
The Scotsman no longer makes money; the presses in Edinburgh have been sold off; the staff have been moved out of the Holyrood building into a 1960s office block towards the outskirts of the city and, appropriately, across the road from a cemetery.
The harsh reality is that lack of resource and precious few editorial staff makes it hugely difficult to produce a newspaper which stands out from the other 16 daily newspapers on sale in Scotland.
Too many front pages are a summary of the previous night's television news, a formula for further readership decline.
Those who continue to produce a paper are to be applauded; there are desperate circumstances to overcome every day and a constant threat of more job losses.
The Scotsman is an old friend…it's miserable and painful to watch it suffer much longer.
John McGurk is co-editor of Scot-Buzz and was editor of The Scotsman and Scotland on Sunday and was managing editor of The Daily Telegraph.