THE LAUNCH OF THE NEW DAY PAPER SOUNDS LIKE OLD HAT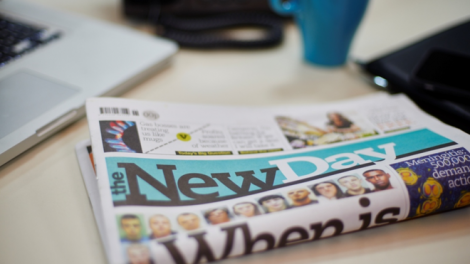 JOHN McGURK
Just ten days after the death of one national newspaper comes the announcement that another is to be born into a great wide-open gap in the market where, we're told, readers want a more modern approach to printed news whatever that is.
You either have to admire the bottle of the geniuses behind this brave new effort or question their sanity. What do they know about the demand for printed newspapers that they rest of us are struggling to understand?
In Scotland, the tabloid and turquoise NewDay will be published by the folk who also own the Daily Mirror and Daily Record and will be 19th daily newspaper that many Scots will be able to choose from.
The last thing we Scots need is another daily newspaper when some of those we've got a nearing death themselves.
NewDay will be free when it appears next Monday and then cost 20p for a fortnight before settling at 50p which will make it 10p more expensive than the "i" newspaper just bought by those other geniuses at Johnston Press for £24 million while the loss-making Independent will disappear in its printed form next month.
This is exciting stuff for a failing industry but there was a degree of amusement when the editor of NewDay, Alison Phillips, attempted to talk up the bright and bold business strategy behind the new paper when she appeared on the Today programme yesterday.
The parent company, Trinity Mirror, had done "extensive" market research and had come to the conclusion that 35-55 year-olds were people "who want to be informed by a modern approach to news."
Then, as if she had suddenly discovered the panacea to the demise of newspapers across the globe, she declared: "We have created a newspaper which reflects and understands breaking stories. It will be a ruthless edit of the day. Readers can sit back and enjoy the day's news."
It was at this point that most common-sensed listeners would have concluded that she was, of course, talking a load of nonsense. In fact, any editor who believes such drivel is destined to produce a newspaper which will do exactly the opposite.
The idea of "enjoying"news is particularly bizarre because, by its very nature, most news is in fact bad news.  Try presenting the latest terrorist outrage as upbeat.
What is meant by a "modern approach to news" is that this paper will take about five minutes to consume. "Ruthless" means that it will lack quality and substance because it will be constructed by as few staff as possible. There will be nothing original or distinctive.
Apparently, news will be presented without comment while there will be no attempt to persuade readers what to think. While this may sound attractive to those who abhor political interference with factual reporting, the result is most likely to be deadly dull.
The truth of the matter is that publishers have attempted every which way to corner even a glimpse of a new print market over the last 20 years as the dawn of digital started to bite hard.
Breaking the broadsheet mould, the Independent went tabloid forcing most others to do the same while the Guardian converted to its in-between Berliner size.
The "i" was launched five years ago as a easy-read quality tabloid and has become successful probably because it is excellent value for money against competitors which can be up to four times more expensive.
Two free loss-making London "lite" evening papers have come and gone but they did pave the way for a free, and now successful, London Evening Standard while Metro is free on buses and at train stations.
There was the failed Sunday Business but then the free City AM which has had some success in appealing to London business commuters. The toxic News of the World was replaced by a Sunday edition of the Sun while, in Scotland, the National has tried to appeal to independence supporters.
In recent years, the Daily Record even tried giving away a free evening edition but packed it in quite quickly when it realised that few people could be bothered with it.
So there has been no shortage of new ideas as publishers have grappled with the decline of the industry.
The reality is that Trinity Mirror, while portraying itself as some kind of benevolent standard bearer bent on creating a wonderful new method of satisfying declining newspaper readership, is far more interested in building another base for national print advertising because it remains far more lucrative than cheap digital stuff.
Whether they will shoot themselves in the foot remains to be seen. There is a danger that readers of the already struggling Daily Mirror and Daily Record will be drawn away by their new cut-price cuckoo in the nest.
Even hardened newspaper readers do not like paying over the odds and, ideally, many like to get their paper free as evidenced by some of the give-away success stories in recent years.
Rival publishers will be sharpening their blades and will not be sitting back waiting for NewDay to do them in. So stand by for a fierce newspaper price-cutting war and some clever marketing campaigns.
We must hope that NewDay will spark the kind of retaliation which will provide the industry with exactly what it needs— real investment to breath some new life back into it.
It would be nice to think that NewDay is a genuine attempt to produce an exciting, informative, educational, entertaining and cleverly-priced paper which does indeed deliver a new formula to cater for the "modern" reader.
Good luck to them. But the whole project sounds suspiciously like old hat.