TIME TO FIRE THIS CLAPPED-OUT APPRENTICE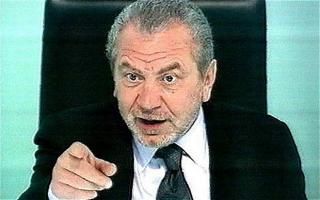 We're coming up to Episode Three in Year 10 of The Apprentice, says Scot-Buzz editor BILL JAMIESON. For those who have not yet screamed "You're Fired" at the first sight of Lord Sugar, the format is wearisomely familiar but still hypnotic in its ghoulish humiliation.
A bunch of would-be "entrepreneurs" (how all-embracing this term has become) vie to outperform each other to be awarded – no, that's not quite right – to be spared a peak-time television roasting by arguably Britain's worst boss: the bruising, brutal business bully boy, the Amstrad Archimedes, Alan Sugar.
It's compelling television – if your taste runs to degradation, verbal flagellation and watching character assassination at the hands of a one-man firing squad.
Not even a blindfold or final cigarette is offered the victims, though a generously-proportioned hood should surely be allowed the victims on the grounds of basic dignity.
This show was originally intended to be a testing ground for tomorrow's enterprise wonders and business tycoons: the BBC's cack-handed genuflection to business and enterprise. It's what is served up to us as – if you can keep a straight face while reading this - "reality-based television".
It has long shed this cynical veneer of authenticity as it morphed into a macabre circus act – with a whiplash ringmaster and no shortage of clowns.
LET'S START WITH THE CLOWNS…
Through a process that's never been revealed to viewers, young would-be business leaders are selected to compete in a series of tasks set by Sugar.
Almost without exception the contestants seem to have been chosen for a boundless self-regard and a self- appraisal of their abilities that borders on the insane. The vanity on show would fill a Zeppelin balloon.  Of the wisdom of humility, there is a charmless innocence.
They are divided into teams and compete each week in competitions that bear about as much relation to the world of business as the frenetic slapstick of "It's a Knock-Out".
The weekly competitions typically range from selling a collection of miscellaneous goods at a frenetic pace, to devising and marketing cosmetics. The tasks have to be achieved in timescales so tight as to crush any opportunity for forethought or planning – the vital qualities most needed to succeed in business.
At the end they file into a boardroom to await Lord Sugar's appearance, staring at a black leather executive chair that Darth Vader would have considered over the top.
Candidates whose shortcomings are particularly exposed and denounced by their back-stabbing "team-mates" (sic) are despatched by Lord Sugar's acid one-liners, the infamous pointed finger and the catch-phrase: "You're fired!"
To this, the response of our would-be world-shakers is "Yes, Lord Sugar, "no Lord Sugar" and "Thank you Lord Sugar".
After this hour-long exposure to sarcastic ridicule and withering contempt, the losers are shown being driven away in a taxi, mumbling regret that "they weren't given a proper chance".
Actually, from the moment they volunteered for this farce, a "proper chance" was never on.
Let's not deny the appeal of The Apprentice as mass television. But a fair depiction of the world of enterprise? Get a grip.
NOW LET'S TURN TO LORD SUGAR…
At the start of the show, a TV helicopter swoops over the London skyline and a sonorous voice intones, "In a city built on commerce, one man stands out - a corporate heavyweight."
At this, there cannot be a self-respecting member of the Institute of Directors who is not already cringing on the TV sofa, contemplating a make-over and sudden change of career.
Few caricatures of a "corporate heavyweight" can have turned more people away from anything to do with business, still less aspiring to be like him.
This is a boss whose waxwork would be thrown out of Madame Tussauds for scaring the customers.
One could say it's a caricature out of the Victorian era, only not even Charles Dickens would have drawn a mill-owner with such crushing contempt for employees.
Just about every mannerism Sugar displays with such grumpy insouciance is the opposite of the qualities needed to motivate and lead a successful business today.
In fact, it's a near perfect example of how not to do it.
Little wonder that a YouGov survey has found The Apprentice to have poisoned young people's impressions of entrepreneurship.
Almost half of 2,000 respondents said they would describe the world of business as "dog eat dog," according to a YouGov poll commissioned by the online training company Caffeine on Demand.
A mere three to four per cent of respondents associated the phrases "honest, open and transparent", "attracts nice people" or "caring and responsible" with their understanding of business.
David Kean, co-founder of Caffeine on Demand and author of the international bestseller Pitching To Win, called the results "extremely worrying" because "it means that the very thing that feeds the national purse is despised."
He blames business-related reality television show such as The Apprentice for spreading the idea that "you have to be a ruthless fictitious stereotype" to succeed in business and putting young people off from entering the world of business.
This anti-enterprise programme, like it's so called "corporate heavyweight", is long past its sell-by date.
So will just one of the gormless contestants please do the world of business and enterprise a favour?
Stand up, give two fingers to Sugar and proclaim "You arsehole … You're Fired!"