STAFF JOBS SURGE ON, UPWARD PAY PRESSURE GROWING
A slackening growth pace is evident in the latest Bank of Scotland Report on Jobs. But the figures show further "robust increases" in both permanent appointments and temp billings in Scotland last month.
And "strong upward pressure" continues on staff pay, particularly permanent starting salaries, as rising demand for employees contrasts with a further deterioration in candidate availability.
The bank's latest jobs report builds on previous findings throughout the year of a strengthening private sector employment market and suggests the tumultuous independence referendum campaign had a muted impact on business expansion and employee hiring.
The widely-watched Bank of Scotland Labour Market Barometer fell back to a four month low in September. But, says the bank, "it was nevertheless at a level that was among the highest seen in the series history and above the equivalent UK index for the third month in a row".
Says Donald MacRae, the bank's chief economist, "September's Barometer showed a continuing rise in the number of people appointed to both permanent and temporary jobs, although at a lower rate than recent highs.
"Starting salary pay rose strongly reflecting the growing lack of available candidates for vacant positions. 
"The Barometer is showing almost four years of monthly improvement resulting in the rate of unemployment in September of 5.5 per cent. The Scottish economic recovery continues."
SCOTTISH EXPORTERS - WHY WE NEED TO DO MORE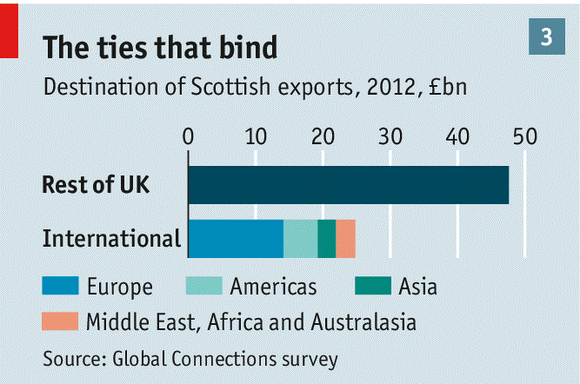 One of the least explored issues in the independence referendum campaign was Scotland's export performance, in particular exports to countries beyond the UK. 
This was even more remarkable given the exhortations in the wake of the 2008-09 financial crisis to rebalance the economy towards manufacturing and in particular to exports.     
According to the Global Connections Survey, Scottish international exports in 2012 (exc. oil and gas) were reckoned at £26 billion, up £1.4 billion (5.9 per cent) on 2011.
Of this, some £15.4 billion was by manufacturing sector companies and £8.7 billion by the service sector. Manufacturing sector exports increased by £1.1 billion (7.9 per cent) over the year and service sector exports increased by £465 million (5.6 per cent).
Such figures on their own might seem respectable enough. But not all Scot-buzz readers concur. 
This from David Scrimgeour, a Scotss lawyer who has lived and worked in Germany for over 20 years. In the 1990's he was the Scottish Government's investment representative and in 2000 he founded DS Consulting to advise international companies and governments on strategy and business development:
Hi Bill
The Referendum debate underlined, in my view, the complete dependence of the Scottish economy on the English market and the City. But are there any new moves to internationalise Scottish business?
Scotland was threatened with company departures, mortgage cost increases, pension losses, share sales and runs on Scottish banks in addition to the removal of the currency. And yet, to date, there has been no discussion in Scotland of the obvious need to diversify the economy beyond British shores and to find new sources of finance and export markets in order to reduce these business and political risks. 
And this is also despite the additional looming risk of a Brexit in a couple of years' time. You would think that this would be an ideal policy issue for the SNP party to promote, especially for the Yes Generation.
SCDI has identified internationalisation as a key element for creating "a robust and sustainable economy" and notes the average export rate (i.e. outside of the UK) of Scottish companies is 7 per cent. This contrasts with the average in Bavaria of 50 per cent - and 73 per cent here in Munich. 
So, despite the efforts of Scottish Enterprise over the years, international activity by Scottish SMEs in particular is dangerously low. The only consolation is perhaps that UK companies generally are no different but how comforting is that?
Best wishes
David
Export help for SMEs has long been a priority for the Scottish government and its agencies. And this letter well illustrates the need for these efforts to be encouraged and sustained. It would only be fair to point out that the headwinds created by continuing economic problems in the Euro-zone, particularly in the light of the latest IMF forecast downgrades. The 27-member currency zone is our largest export market outside rUK.
Meanwhile, what are the facts? Scotland's two largest exporting industries in 2012, as in previous years, were manufacture of food & beverages (£4.7 billion) and manufacture of coke, refined petroleum and chemical products (£4.1 billion). These were  followed by legal, accounting, management, architecture, engineering, technical testing and analysis (£1.7 billion), wholesale retail, repair of motor vehicles and motor cycles (£1.7 billion) and financial and insurance (£1.4 billion). 
The US continues to be Scotland's top international export destination with an estimated £3.6 billion of exports, an increase of £235 million since 2011. Netherlands was the second top export destination with exports of £2.7 billion, although exports are estimated to have decreased by £340 million (11.3%) over the year. France is Scotland's third top export destination, estimated to be worth £2.2 billion, increasing by £455 million (26.4%) in 2012.
_________________________________________________
EXPORT DATE FOR THE DIARY 
SMEs looking for export opportunities should note the next big event: Explore Export on 10 November. It brings together 65 global commercial officers to Scotland to talk to companies on a 1-to-1 basis about the opportunities for trade and export in their own territories. Venue: Murrayfield Stadium. Admission free and more details at www.scottish-enterprise.com.
_____________________________________________________
What of SME export performance? Very problematic as David suggests, but all the more reason, perhaps, to remind ourselves of where success has been achieved and to learn lessons accordingly. Here are three worth highlighting:
•The isle of Arran Brewery has opened a company in the USA to boost exports into America. The company will  not just be importing its own beers but will be importing other Scottish and other European Craft Beers into the US market, which grew by 18% in the last six months alone. Managing Director Gerald Michaluk Said " We have had great support from Scottish Enterprise and STI as well as UKDTI in entering the US market and this major drive will see Arran Beers being available to beer wholesalers throughout the USA in 2015."  Independent Scots brewer BrewDog received support from SDI in finding new routes to market in different countries, introducing leads and presence at trade shows.   
•Translation services agency Lingo24 received support through the Scottish Enterprise GlobalScots network. The company achieved £7 million in sales last year.
•Probe Test Solutions, supplying test hardware to semiconductor companies, received support to develop exports, finding local contacts in target markets in Russia and Eastern Europe, trade show support and funding support to employ an export manager. 
Meanwhile, activity this year has included:   
•A delegation of Scottish craft brewers has just completed a five day visit to the US and Canada led by Scottish Development International (SDI). The aim was to provide access to brewers, industry experts, buyers and importers. 
•SDI has opened its first office in Africa, enabling the agency to double the number of companies it supports into the market to around 300 by 2014/15 and increase international sales to Africa beyond the current £2 billion mark. 
•In May, three Scottish oil and gas supply chain companies expanded into the US market and opened new operations in Houston, Texas. A record number of Scottish oil and gas companies attended the Offshore Technology Conference (OTC) in Houston, almost half attending for the first time.
•In April a delegation of Scotland's food and drink sector visited Singapore to explore export opportunities. Eighteen organisations took part, including leading brands such as Highland Spring, Paterson Arran, Highland Smoked Salmon and Mackie's at Taypack as well as newer entrants such as Loch Ness Brewery, Garvies Soft Drinks and Burgon's of Eyemouth. 
Says Neil Francis, SDI's International Operations Director,   "If we want our companies and our economy to grow, we must increase the number of companies exporting for the first time, and help existing exporters increase the value of their exports. 
"We need to raise the awareness and ambitions of companies to the benefits of international trade, help them to build their capability and capacity and support them to exploit the opportunities.
"We support companies with preparing to export workshops, online learning tools and case studies to develop robust international strategies.  And we provide companies with access to the know-how and expertise including our specialists in our 29 international offices to explore key markets."
SHOPPERS SHUN BIG CHAINS FOR INDEPENDENTS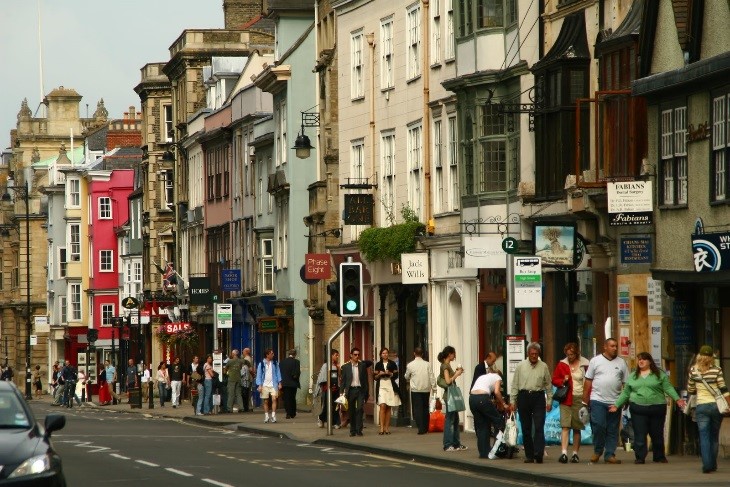 Encouraging news for high street entrepreneurs: independent shops, bars and cafés are opening at their fastest rate in years in a boost to the high street as customers shun the big retail chains.
According to the Local Data Company (LDC) and the British Independent Retailers Association (Bira), more independent stores opened in the last year than closed. While giants such as Marks & Spencer, Tesco and Sainsbury are still in the doldrums, Britain's high streets are not suffering as badly as analysts have claimed.
Shoppers turned to local outlets in record numbers, with net openings of 432 in the last six months. That was the result of 8,662 new independent retailers opening and 8,268 shutting their doors.
Last week PwC and the LDC revealed that town centres had 964 net closures of all types of stores between January and September, but this was mainly due to the collapse of high-street chains, including Phones 4U and La Senza.
 Said Matthew Hopkinson, director at the LDC, "The growth in independents, the 'silent majority', is a significant factor in preventing vacancy rates [the number of empty shops] rising in our town centres and also reflects the consumer response to a more personal and unique offer that many independents bring."
E-cigarette shops, barbers and independent cafés and restaurants were among the largest type of store to open in towns, while independent clothes and shoe stores closed.
A rise in the number of shoppers heading to high-street independents was also highlighted by online sales growing at their slowest rate in more than a year, according to the British Retail Consortium and KPMG.
Online shopping rose 8.2% last month, compared with a three-month average of 13.8%. Clothing and footwear sales also fell online for the first time on record, as the warmest and driest September ever recorded meant that shoppers shunned autumn and winter collections.
David McCorquodale, the head of retail at KPMG, said: "The warm weather melted sales of clothing and footwear online, as shoppers chose to dig out their summer wardrobe rather than investing in new winter woollies. As the weather cools and people start planning for Christmas this trend should quickly reverse."
In Scotland, you bet.