FINDING A BUYER FOR PRESTWICK AIRPORT IS LA-LA-LAND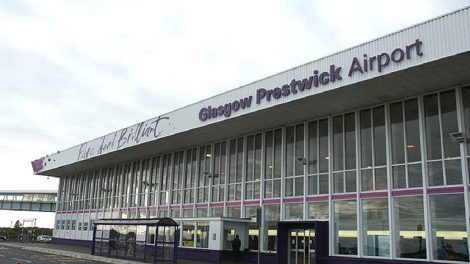 KEN HOUSTON                    February 7 2017
Just what is it about the Scottish political class and Prestwick Airport, where management has just announced a pitch for more military-related aircraft movements, presumably as a substitute for the failure to reinvigorate passenger business that many experts have long believed is already lost for good?
It would be easy to lay all the blame on the current SNP administration for the policy of sinking public money (close to £40 million at the last count) into this moribund operation.
But it would be too easy because all the parties at Holyrood are implicated, including the party which consistently takes the moral high ground when it comes to fiscal discipline.
Listen to the words of Conservative North-east MSP Liam Kerr back in December when Audit Scotland declared that public money poured into keeping Prestwick in operation could reach £40 million by as early as 2018 - five years earlier and £15m more than the maximum amount originally planned.
According to Mr Kerr the figures were further evidence that the costs were starting to get out of control and that taxpayers were getting increasingly "fed up".
But listen what he had to say next: "It's time the SNP government got a grip of the situation and started putting plans in place to return the airport to the private sector as soon as possible."
Return the airport to the private sector? Has Mr Kerr been watching multiple screenings of 'La-La-Land' the Hollywood blockbuster currently packing them in at cinemas up and down the country?
Why does Mr Kerr think Infratil, the previous owner of Prestwick, sold the airport to the Scottish Government for £1? The answer is simple; for several years Infratil had been trying to find a commercial buyer but eventually despaired of ever doing so. Consequently, the directors must have rubbed their hands with glee when they saw a chance for the Scottish Government (actually the Scottish taxpayer) to take this liability off their hands.
Sorry, Mr Kerr, there is not a hope in hell of a private company taking responsibility for the airport – unless the Scottish Government was prepared to commit to an annual bung to make up anticipated losses.
And even if, by some miracle, Prestwick did start to attract more passenger services this would be at the expense of existing or potential jobs at GLA and EDI, both these airports having room for expansion within existing capacity.
However Mr Kerr's comment comes over as more mendacious than stupid, when one considers that the Tories have 'form' over Prestwick going back several decades. Also last December, Cabinet papers released under the 30-year rule revealed that Malcolm Rifkind, the then Secretary of State for Scotland, had urged the Prime Minister to fight the challenge to the Prestwick monopoly on transatlantic flights to and from Scotland.
With George Younger, also a senior member of the Cabinet, just about holding on to the highly-marginal constituency of Ayr, the electoral well-being of the Conservative party was considered of greater importance.
As for the intention to attract more military business, this brings a new dimension to the Prestwick issue. Although its fog-free advantages have been overtaken by improvements in technology, Prestwick's coastal location and 9,800 feet runway is still regarded as a vital asset, especially in a military or civil emergency.
Consequently, could there be a case for transferring responsibility for the Prestwick investment/subsidy (delete according to one's point of view) from Holyrood to the MoD – or perhaps NATO?
Only saying, of course. Yet this might just form the basis of a get-out clause from this financial millstone for Ayrshire lass Nicola Sturgeon.
TRAVEL TRAVAIL IN TRUMPLAND
A Scottish resident, Glasgow-based veterinary surgeon, Hamaseh Tayari, was one of those caught up in President Trump's 90-day ban on people from seven Muslim-majority countries entering the US.
One can understand the indignation felt at this executive decision as it appears those adversely affected have no connection whatsoever with terrorism.
On the other hand Islamic extremism has produced a lot of victims – not least those slaughtered in Paris at the end of 2015 and in smaller incidents during 2016 in attacks carried out, in part, by young men who entered Europe disguised as 'refugees'.
Last year the USA admitted over 84,000 refugees and if just one half of one per cent turned out to be terrorist sleepers, or at risk of radicalisation, then one might see a certain logic to Trump's order, no matter how crassly it was carried out.
Ms Tayari holds an Iranian passport and as Iran is one of the countries on the banned list was prevented from returning to Scotland from a holiday in Costa Rica via New York.
Happily, the pressure group, Women for Independence, launched a crowdfunding appeal, which within hours raised more than enough money for her to fly home, via Madrid, with any surplus committed to the Scottish Refugee Council.
Even more happily, it was good to see these 'weemin' prepared to put their own cash on the table because being, mostly, hard-left harpies (check out the current national committee) they are experts at dreaming up pet schemes which involve spending lots and lots of other people's money.
Twitter: @PropPRMan