O, FRABJOUS DAY! Honey McBee's Buzz Round the Media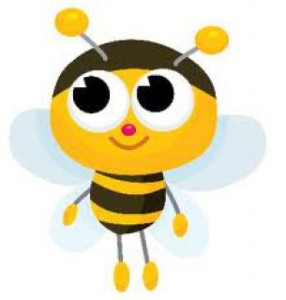 Tuesday 12 May: Were you up for Douglas Alexander? Or Jim Murphy? Some night, was Thursday; tectonic plates and all that. But if you did happen to vote Tory or – heaven forbid, UKIP – don't shop here.
GOING UP…
The Cassandras are sharpening their pencils.
Leading the charge was Professor NIALL FERGUSON in the Sunday Times [£], "that smile will soon be wiped off Nicola's face" – as Cameronian conservatism becomes the in thing – maybe even in Scotland.
Elsewhere in the paper, GILLIAN BOWDITCH [£] says much the same; half of Scots did not vote for the SNP and Ruth Davidson could yet lead a unionist revival.
Labour's deputy leader [for now] KEZIA DUGDALE paid a fulsome tribute to the new kids on the block in her Daily Record column yesterday – "Congratulations first and foremost to Scotland's 50 new SNP MPs. I wish them all well. That picture of the full SNP team under the Forth Crossing was epic. A healthy mix of young and old. From shop workers to advocates, newsreaders to business owners, they look like Scotland and now it's their duty to speak for it. All of it"
One of the winners was our own ScotBuzz columnist GEORGE KEREVAN, who took East Lothian for the SNP. Yesterday's National carried an engaging piece by George [£] on the delights of the campaign trail.
The 56 flew down to Westminster en masse yesterday – on Gael Force One, according to the Mail on Sunday – where they were assured of a warm welcome from former environment secretary Owen Paterson who told Sky News they were Marxists and treat the English "some piggy bank that can be raided so that excessive amount of money are taken from England without responsibility."  And if you believe MAXINE FRITH in the Sunday Herald, there's not much love lost in the general population either…
ALEX MASSIE in the Mail on Sunday conceded the SNP victory was historic. But the Conservative government is legitimate and "Nobody, in any part of the kingdom can complain the result is mysterious or unclear. It should concentrate minds. That does not mean, however, that change can be cobbled together in just a few days. This, above all, is a time for cool heads, clear eyes and calm hearts. As Boris Johnson correctly observed: 'Everybody needs to take a deep breath and think about how we want the UK to progress.' That includes the SNP".
NEAL ASCHERSON in the Observer thinks Scotland is already independent – letting it happen wouldn't be such a calamity and would solve many intractable problems.
IAIN MARTIN in the Sunday Telegraph  says David Cameron's now an election winner – and the dynamics of British politics have been transformed.
Guido Fawkes reported it first in yesterday's blog that UKIP's NEC has persuaded Nigel Farage to stay on as leader. "We have fought a positive campaign with a very good manifesto and despite relentless, negative attacks … 4 million votes was an extraordinary achievement… the referendum campaign has already begun and we need our best team to fight that campaign."  The Telegraph followed it up with a piece by the man himself – "I breathed deep, and thought … I decided that as much as I wanted to spend the summer fishing, walking, and of course, in the European Parliament where all hell is currently breaking loose – that I owed it to the party that got me here".
…AND HURTLING DOWN
Inquest 1; how did they get it so wrong?
This week's ScotBuzz chequebook and pen is shared between JANET DALEY in the Sunday Telegraph and DOMINIC LAWSON in the Sunday Times [£].
DALEY wonders why pollsters like YouGov's Peter Kellner are so surprised when people say they're going to do one thing then do another. The real question, she says, is why so many voters felt compelled to avoid telling Mr Kellner and his friends their real intentions.
"Somehow we have arrived at a point where the conscientiously held beliefs and values of the majority of the population have become a matter for secret shame…there is a dreadful price to be paid: if you browbeat people into withdrawing from the debate, then you will never know how robust their convictions are – until it is too late and you have catastrophically lost an election, or staked your professional credibility on unsound predictions"
LAWSON'S piece on the polls – and in particular their woeful failure to get a grip on the concept of 'shy Tories' – is definitive.  The suspect methodology, says Lawson, was there to be seen, but clearly wasn't heard.
Yesterday PETER KELLNER himself surfaced with this apologia on the YouGov website. Yes they got it wrong – along with all the other polling organisations. But you know what? It's all our fault. We change our minds [how dare we] and then tell outright porkies to people who phone us just when we're getting tea. It's only after we've voted that our conscience gets the better of us, which is why the exit polls are right –er. And even then there are some lying b*******s apparently. You just can't trust the people …
Finally, the man who got it right – the election legend that is PROF. JOHN CURTICE in the Conversation on how he and his team worked on the exit poll that was almost bang on the nail.
Inquest 2; Unlucky Jim
First in the queue to put the boot into Jim Murphy was former Glasgow MP Ian Davidson. There is no love lost between them, with Davidson calling for Murphy to go even before the polls opened on Thursday and carrying on in the Staggers – the New Statesman's blog – in the hours after.
Next in line was PAUL SINCLAIR in the Sunday Times [£].  The former advisor to both Gordon Brown and Johann Lamont clearly doesn't rate Murphy very highly;  his boast that outwitting the Nats was easy was, says Sinclair, "not just an apparent overestimation of his own abilities, but also a fatal underestimation of the task in hand. "
Best of all, and worthy of another ScotBuzz chequebook and pen [that's enough, we're not made of money – Ed] is this blog from LALLANDS PEAT WORRIER on Friday. A scathing verdict on Murphy's campaigning – "A measure of bullshit peddling is to be forgiven — morale must be sustained, after all — but these are unforced errors that reeked of hubris rather than the plucky confidence of the underdog. To risk a Bourbon strategy, evoking the very worst of a party who seems to have learned nothing and forgiven nothing since 2007, was bananas". Recommended reading.
A lone voice cries in the wilderness as EUAN MCCOLM in Scotland on Sunday defends Murphy's decision to stay as leader. The rot had set in, says McColm, long before Murphy arrived on the scene and the issues he fought on were the right ones. He will pick up a Holyrood seat in 2016 – "Until then, he has no choice but to fight on. Simply, his party cannot afford yet another period of distracting introspection while the SNP continues to make strides … Jim Murphy has to get back up and keep fighting. He might never lead the party to election victory but, until a credible alternative candidate emerges, he is all they have."   Former First Minister Lord McConnell  half agrees.
Finally, here's TOM WITHEROW's compilation of Jim's finest election moments in Saturday's Sun Nation. Says it all really.
Meanwhile the UK party is lining up replacements for Ed.
Here's DAN HODGES in the Sunday Telegraph on the likely wheeling and dealing.
NICK COHEN in the Guardian added his two-pennyworth as to why Labour lost – the party and the left just despise the people they are supposed to stand up for – never a winning formula.
For those of you who find graphics shed the most interesting light, the Independent on Sunday carried two maps showing how Labour's new core support correlates with traditional mining areas. The paper says it's as though the past 30 years didn't exist…
Inquest3; and then there were eight…
With Alistair Carmichael the last man standing north of the border in Orkney and Shetland, there remains the interesting question of who takes over from Nick Clegg.
Frontrunner appears to be Westmoreland and Lonsdale MP Tim Farron; Mark Leftly in the Independent on Saturday gave us potted biographies of contenders and the scramble to preserve some party presence in the Commons while the leadership election takes place.
Similar coverage – together with videos – appeared in Saturday's Telegraph and in the Sunday Herald.
JAMES KIRKUP in his Sunday Telegraph blog thought Clegg deserved credit for going into coalition and sticking it out for the full term, but by the time this appeared elsewhere in the paper, any lingering sympathy for Clegg amongst the remaining LibDem rump had disappeared…
Inquest 4; RIP FPTP.
Maybe. This is how Westminster would have looked if the election had been run under the D'Hondt system, which is how we elect our list MPs, courtesy of the BBC website and this, from City AM is what the map would look like if the runners-up had come first
AND FINALLY, to prove there's life beyond the bubble –
Yesterday's Herald carried a disquieting story about a rock pecker, a barge full of aggregate, a wind turbine and some very upset residents on the Hebridean island of Coll.
Robert Scott-Dempster in yesterday's Scotsman wrote about the wider effects of the Land Reform Bill, coming to a piece of wasteland near you. Combined with the Community Empowerment Bill, it isn't just landed estates that are the target…
You too can live like the aristocracy. Byfleet Manor in Surrey, which doubles up as the Dower House for Lord Grantham's mum, is up for sale. Offers of £3.95million and [probably] no mansion tax. Form an orderly queue, or Lady Violet will have something to say…
If you're eating breakfast, you might want to skip this. Especially if it's a McMuffin. Yesterday's Telegraph told us the real reason why junk food makes you fat…
Courtesy of Mark J Perry on CAPX yesterday, here's everything you never knew about the humble banana …
Catherine Devine in the Herald, finds the latest way to satisfy your pooch's hunger pangs. Kevin Ross runs Growling Tums of Linlithgow and has produced customised treats – a "Gourmet range of salmon and trout with asparagus and sweet potato, pork and apple with sweet potato, turkey and cranberry with sweet potato, and lamb and mint with sweet potato and peas".  Might go down well with some pensioners…